A key activity in seaside resorts, parachuting raises a few questions. The one that arises most often concerns the reasons for starting. In reality, there is no particular answer because upward parachuting lends itself to several desires. Here is something to inspire you and motivate you to take off.
To let off steam
We must admit that our daily lives are marked by a routine that sometimes turns monotonous. This is obviously without neglecting the stress caused by complicated studies or demanding work.
In such a context where there is little (or no) room for relaxation, any option to decompress is welcome. And that's where the parachute comes in. Its practice gives you the opportunity to let go completely, without taking up much time. These are a few minutes of happiness that are promised to you between the sky and the water. You will indeed experience an immense feeling of freedom that will help you to clear your mind so that you can fully appreciate the beauty that the surrounding landscapes reveal to you.
For the fun of it
Who has never wanted to test an activity "for fun"? Leave reason on land and give the child inside you the opportunity to enjoy yourself. Put on your bathing suit and the lifejacket provided and let the technicians equip you. A boat will pull you and you will quickly find yourself several tens of meters above the sea.
Note that it is possible to walk on the water with your feet, or even to immerse yourself a little more if you ask for it. Do you have an onboard camera? Take it with you to immortalize your flight and allow you to relive those few minutes of fun at will. Otherwise, your phone or a conventional camera will do the trick. However, it is advisable to take precautions to prevent the unit from falling into the water.
To learn a new sport
Climbing parachuting is considered a sport in its own right. Training courses are therefore offered to allow you to learn and improve your skills in this discipline. You will learn to take off in accordance with the rules of the art, to "fly" with ease and then to land smoothly, with perfectly controlled gestures.
Once you have acquired the basics and discovered all the tricks for an impeccable flight, you can practice free-riding parachuting at will. Moreover, you could become an instructor yourself if you follow the appropriate training. The most important thing is that you have fun in a sport that you really enjoy.
To have a good time together or with friends
Habits quickly develop within a couple. We take ourselves to book a table in the same restaurant, we meet in a usual place, we plan the same activities on the same days of the week and so on. These little habits are not bad, but they should not turn into pure routine. It is therefore advisable to get out of this comfort zone a little to spice up the couple's life.
The goal is to allow your feelings to continually grow and really enjoy every second you share. What could be better than a parachute flight to break the routine? Enjoy the panorama on the horizon and under your feet hand in hand. Let yourself be overwhelmed by the magic of the moment: nothing exists but you two.
Climbing parachuting can be practiced by several people, which is a real advantage for groups of friends. Instead of making an appointment for the usual aperitif, treat yourself to a trip… into the sky. Book a flight to celebrate a birthday, a bachelor party, a promotion, a diploma, a move…. However, it is not necessary to wait for a special occasion to enjoy this activity. Just go because you want to!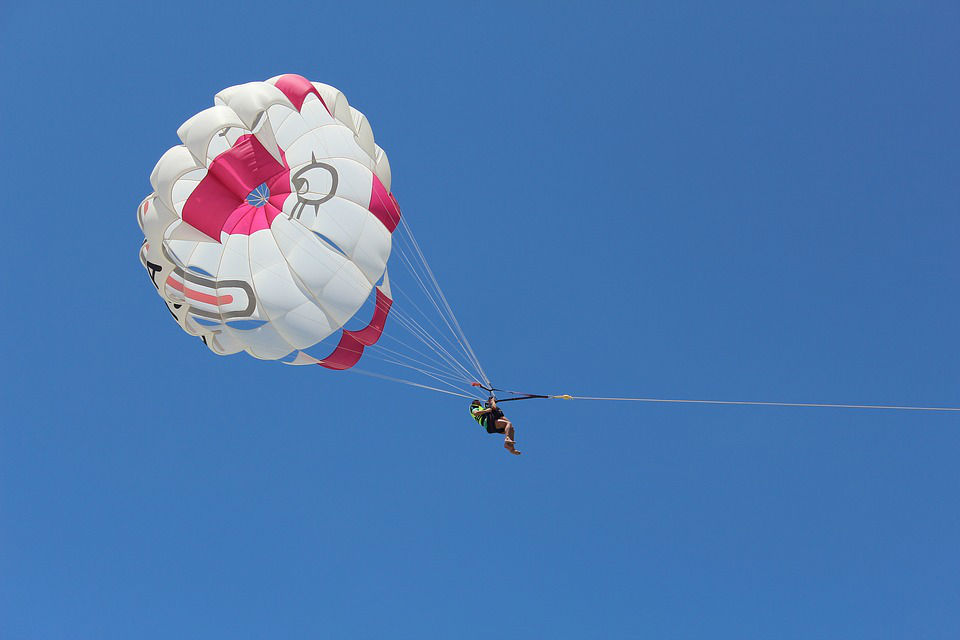 To enjoy the good weather
Lazing on the beach and swimming are the main activities to be enjoyed in summer. At the very least, we try diving or surfing and its derivatives. The concern is that water activities generally require good swimming skills, which is not the case for everyone. Boat trips are good alternatives, of course. Nevertheless, the sensations remain limited.
One more point for the parachute since it is practiced without being good at swimming and without having to stay on a boat.
Indeed, you are wearing a vest and you are securely attached with equipment that guarantees you optimal safety. So you have the opportunity to leave the deckchairs and the sand on board a boat, before rising to the sky. Not to mention the possibility of sliding on the water in complete serenity, just to refresh yourself a little! When the sky is clear, nothing ruins your view of the land and the endless expanse of water. It is therefore the perfect experience to enjoy the sunny days with a large dose of fantasy.
To test new sensations
Whether you are a fan of extreme sensations or not, the parachute will make you live an extraordinary experience. The parachute inflates as the boat speeds up and you will gradually get closer to the sky. The noise that escapes from your boat's engine turns into a whisper, until it disappears completely. From above, you will have the impression that the largest monuments are tiny. You will appreciate a silence that is usually only broken by the birds that cross your "road". In addition, the 360° view of the surroundings will not leave you indifferent during these moments when time will seem to freeze completely.
The takeoff and climb are done smoothly so that you can experience every second with extreme intensity. It should be noted that you have absolutely no effort to make, other than to focus on the moment.
The parachute allows you to disconnect from the world for a few minutes. It is an activity that can be practiced from the age of 5 years old and can even adapt to certain physical disabilities. All you have to do is follow the safety instructions and above all enjoy yourself. Try it once, you'll want to go back!